Polypropylene is one of the most common and versatile thermoplastics. It is closely related to polyethylene, both of which are members of a group known as polyolefins. The polyolefins are composed of only hydrogen and carbon.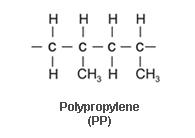 Polypropylene can be produced either as a homopolymer or as a copolymer with polyethylene. The homopolymers, being long chain high molecular weight molecules with a minimum of random orientations, have optimum chemical, thermal, and physical properties. For this reason, homopolymer material is preferred for difficult chemical, thermal, and physical conditions. Copolymer PP is less brittle than the homopolymers and is able to withstand impact forces down to K208F (K298C), whereas, the homopolymer is extremely brittle below 408F (48C).PP is not affected by most inorganic chemicals except the halogens and severe oxidizing conditions. It can be used with sulfur-bearing compounds, caustics, solvents, acids, and other organic chemicals. PP should not be used with oxidizing acids, detergents, low-boiling hydrocarbons, alcohols, aromatics, and some organic materials.
If exposed to sunlight, an ultraviolet absorber or screening agent should be in the formulation to protect it from degradation. Thermal oxidative degradation, particularly where copper is involved will pose a problem.
Polypropylene is widely used in engineering fabrics such as bale wraps, filter cloths, bags, ropes, and strapping. Piping and small tanks of polypropylene are widely used, and 90% of all battery casings are made of PP. Ignition resistant grades are available as a result of the addition of halogenated organic compounds. With this additive, polypropylene can be used in duct systems in the chemical industry. Because PP exhibits good flex life, it is useful in the construction of integral hinges. Polypropylene also has Many textile applications such as carpet face and backing yarn, upholstery fabrics, and diaper cover stock. It is useful in outdoor clothing and sports clothes that are worn next to the body because its wicking qualities absorb body moisture and still leaves the wearer dry. PP also finds application in the automotive industry for interior trim and under-the-hood components. In appliance areas, it is used in washer agitators and dishwasher components.
Consumer goods such as straws, toys and recreational items also make use of polypropylene.